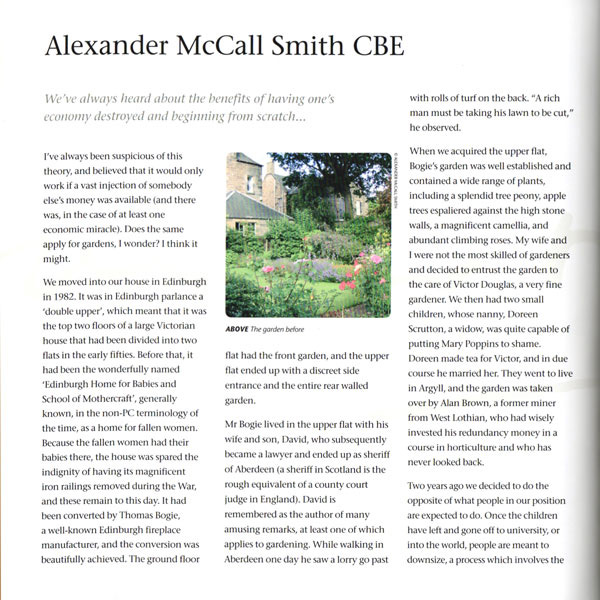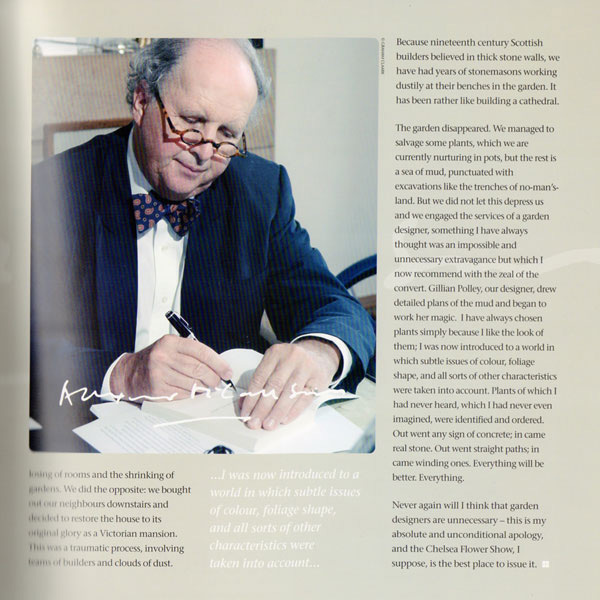 Alexander Mccall Smith CBE
We've always heard about the benefits of having one's economy destroyed and beginning from scratch…
I've always been suspicious of this theory, and believed that it would only work if a vast injection of somebody else's money was available (and there was, in the case of at least one economic miracle). Does the same apply for gardens, I wonder? I think it might.
We moved into our house in Edinburgh in 1982. It was in Edinburgh parlance a 'double upper', which meant that it was the top two floors of a large Victorian house that had been divided into two flats in the early fifties. Before that it had been the wonderfully named 'Edinburgh Home for Babies and School of Mothercraft', generally known, in the non-PC terminology of the time, as a home for fallen women.
Because the fallen women had their babies there, the house was spared the indignity of having its magnificent iron railings removed during the war and remain to this day. It had been converted by Thomas Bogie a well-known Edinburgh fireplace manufacturer, and the conversion was beautifully achieved. The ground floor flat had the front garden, and the upper flat ended up with a discrete side entrance and the entire rear walled garden.
Mr Bogie lived the in upper flat with his wife and son, David, who subsequently became a lawyer and ended up as sheriff of Aberdeen (a sheriff in Scotland is the rough equivalent of a county court judge in England), David is remembered as the author of many amusing remarks, at least one of which applies to gardening, while walking in Aberdeen one day he saw a lorry go past with rolls of turf on the back. 'A rich man must be taking his lawn to be cut,' he observed.
Article Excerpt: Alexander Mccall Smith CBE, Chelsea Flower Show Charity Gala Preview, 2007