Scotland on Sunday – October 2007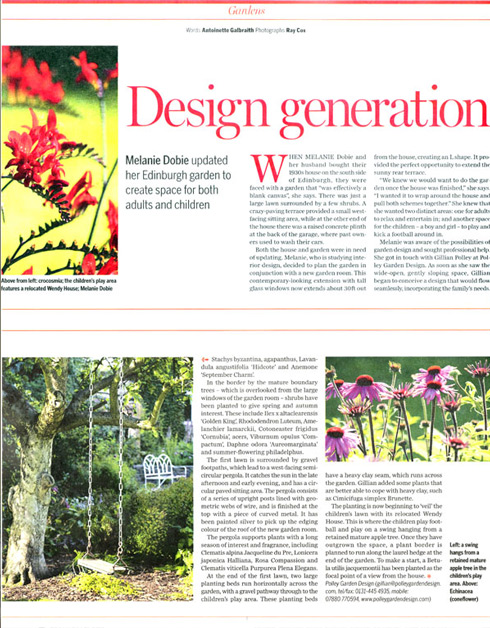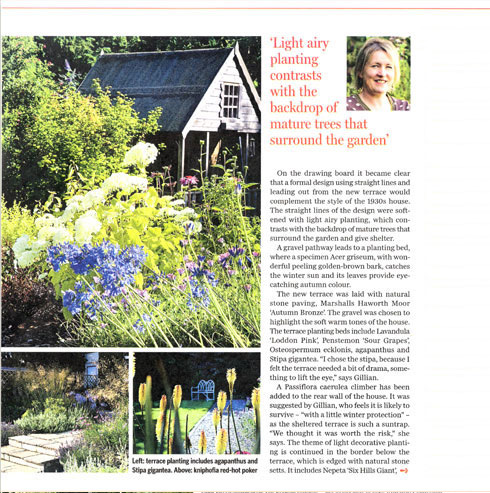 Gardens
Words Antoinette Galbreath Photography Ray Cox
Design generation
Melanie Dobie updated her Edinburgh garden to create space for both adults and children
When Melanie Dobie and her husband bought their 1900's house on the south side of Edinburgh, they were faced with a garden that was 'effectively an entirely blank canvass' she says. There was just a large lawn surrounded by a few shrubs. A crazy-paving terrace provided a small west-facing sitting area, while at the other end of the house, there was a raised concrete plinth at the back of the garage where past owners used to wash their cars.
Both the house and garden were in need of updating. Melanie who is studying interior design, decided to plan the garden in conjunction with a new garden room. This contemporary-looking extension with full glass windows now extends about 30ft out from the house creating an L shape. It provides the perfect opportunity to extend the sunny new terrace.
'We knew we would want to do the garden once the house was finished,' she says. 'I wanted it to wrap around the house and pull both schemes together.' She knew that she wanted two distinct areas, one for adults to relax and entertain in, and another space for the children – a boy and  girl – to play and kick a football around in.
Melanie was aware of the possibilities of garden design and sought professional help. She got in touch with Gillian Polley, at Polley Garden Design. As soon as she saw the wide-open gently sloping space, Gillian began to conceive a design that would flow seamlessly incorporating the family's needs.
On the drawing board, it became clear that a formal design using straight lines and leading out from the new terrace would complement the style of the 1930's house. The straight lines of the design were softened with light airy planting, which contrasts with the backdrop of mature trees that surround the garden and give shelter.
A gravel pathway leads to a planting bed, where a specimen Acer griseum, with wonderful peeling golden-brown bark, catches the winter sun and its leaves provide eye-catching autumn colour.
Article Excerpt: Scotland on Sunday, October 2007