Homes and Interiors Scotland – 2016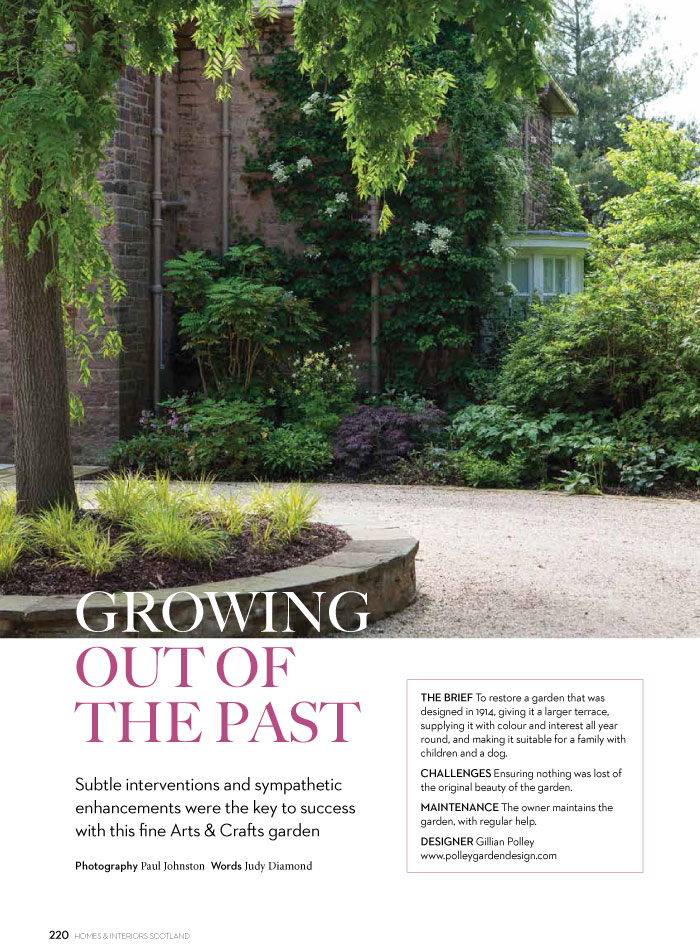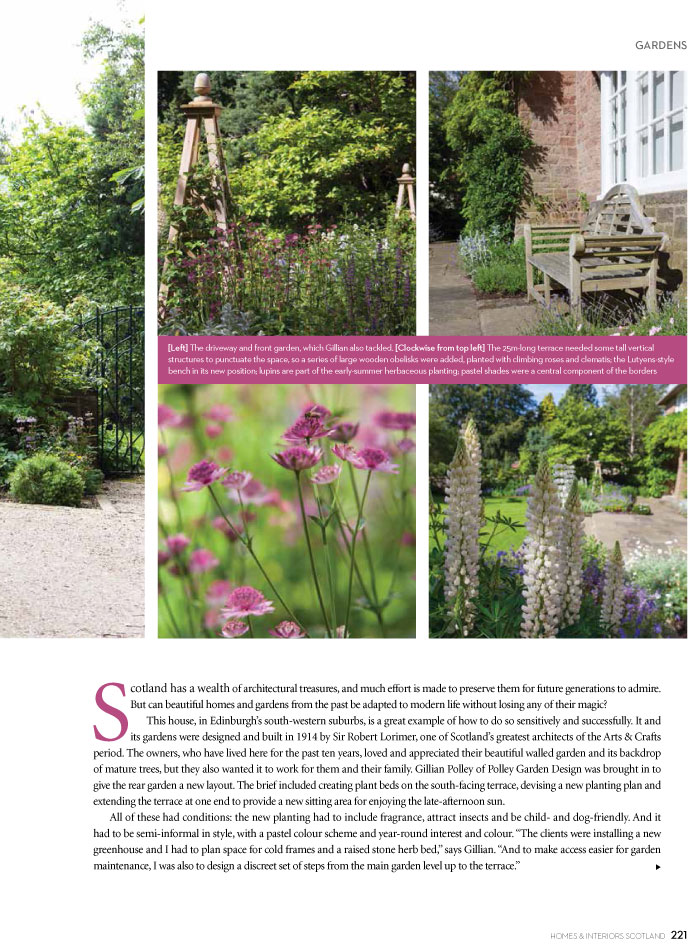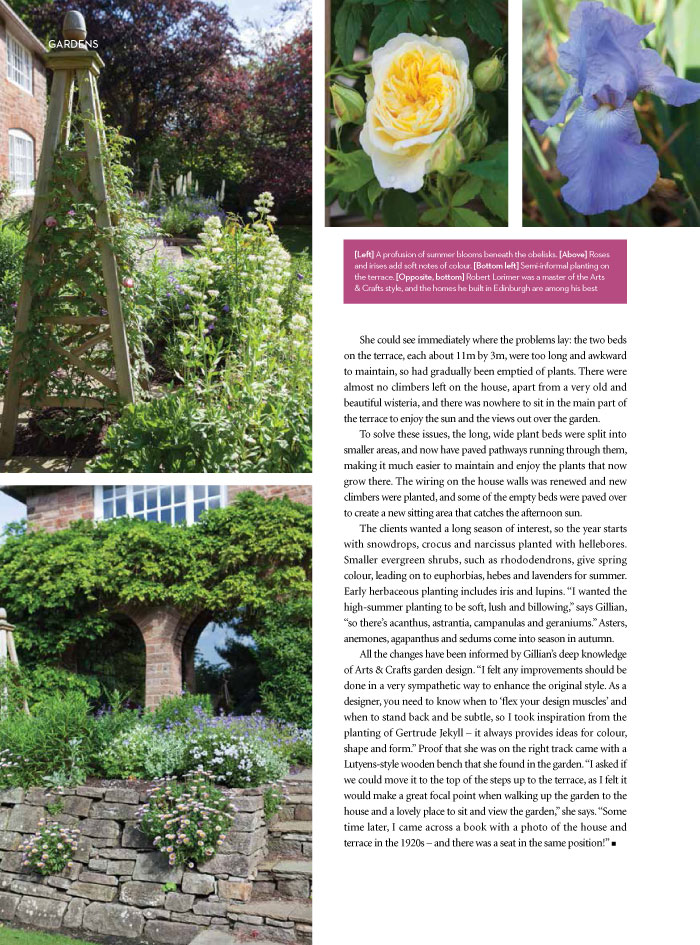 Growing Out of the Past
Subtle interventions and sympathetic enhancements were the key to success with this fine Arts and Crafts garden.
Photography Paul Johnston Words Judy Diamond
THE BRIEF
To restore a garden that was designed in 1914, giving it a larger terrace, supplying it with colour and interest all year round, and making it suitable for a family with children and a dog.
CHALLENGES Ensuring that nothing was lost of the original beauty of the garden.
MAINTENANCE The owner maintains the garden, with regular help.
DESIGNER Gillian Polley www.polleygardendesign.com
Scotland has a wealth of architectural treasures, and much effort is made to preserve them for future generations to admire. But can beautiful homes and gardens from the past be adapted to modern life without losing any of their magic?
This house, in Edinburgh's south-western suburbs, is a great example of how to do so sensitively and successfully. It and its gardens were designed and built in 1914 by Sir Robert Lorimer, one of Scotland's greatest architects of the Arts and Crafts period. The owners, who have lived here for the past 10 years, loved and appreciated their beautiful walled garden and its backdrop of mature trees, but they also wanted it to work for them and their family. Gillian Polley of Polley Garden Design was brought in to give the rear garden a new layout. The brief included creating plant beds on the south-facing terrace, devising a new planting plan and extending the terrace at one end to provide a new seating area for enjoying the late afternoon sun.
All of these had conditions: the new planting had to include fragrance, attract insects and be child – and dog – friendly. And it has to be semi-informal in style, with a pastel colour scheme and year round interest and colour. "The clients were installing a new greenhouse and I had to plan space for cold frames and a raised stone herb bed," says Gillian. "And to make access easier for garden maintenance, I was also to design a discreet set of steps from the main garden level up to the terrace."
She could see immediately where the problems lay: the two beds on the terrace, each about 11m by 3m, were too long and awkward to maintain, so had gradually been emptied of plants. There were almost no climbers left on the house, apart from a very old and beautiful wisteria, and there was nowhere to sit on the main part of the terrace to enjoy the sun and the views over the garden.
To solve these issues, the long, wide plant beds were split into smaller areas, and now have paved pathways running through them, making it much easier to maintain and enjoy the plants that now grow there. The wiring on the house walls was renewed and new climbers were planted, and some of the empty beds were paved over to create a new sitting area that catches the afternoon sun.
The clients wanted a long season of interest, so the year starts with snowdrops, crocus and narcissus planted with hellebores. Smaller evergreen shrubs, such as rhododendrons, give spring colour, leading onto euphorbias, hebes and lavenders for summer. Early herbaceous planting includes iris and lupins. "I wanted the summer planting to be soft and lush and billowing," says Gillian, "so there's acanthus, astrantia, campanulas and geraniums." Asters, anemones, agapanthus and sedums come into season in autumn.
All the changes have been informed by Gillian's deep knowledge of Arts and Crafts garden design. "I felt any improvements should be done in a very sympathetic way to enhance the original style. As a designer, you need to know when to "flex your design muscles" and when to stand back and be subtle, so I took inspiration from Gertrude Jekyll – it always provides ideas for colour, shape and form." Proof that she was on the right rack came with a Lutyens-style wooden bench that she found in the garden. "I asked if we could move it to the top of the steps up on to the terrace, as I felt it would make a great focal point when walking up the garden to the house and a lovely place to sit and view the garden, " she says. " Some time later, I came across a book with a photo of the house and terrace in the 1920s  and there was a seat in the same position!"
First inset [Left] The driveway and front garden, which Gillian also tackled. [Clockwise from top left] The 25m-long terrace needed some tall vertical structures to punctuate the space,  so a series of large wooden obelisks were added, planted with climbing roses and clematis; the Lutyens-style bench in its new position; lupins are part of the early summer herbaceous planting; pastel shades were a central component of the borders
Second inset [Left] A profusion of summer blooms beneath the obelisks. [Above] Roses and irises add soft notes of colour. [Bottom left] Semi-informal planting on the terrace. [Opposite, bottom] Robert Lorimer was a master of the Arts and Crafts style, and the homes he built in Edinburgh are among his best.
Article Excerpt: Homes and Interiors Scotland, 2016