A Family Garden Challenge
"a professional couple with children all wanted something different from their garden"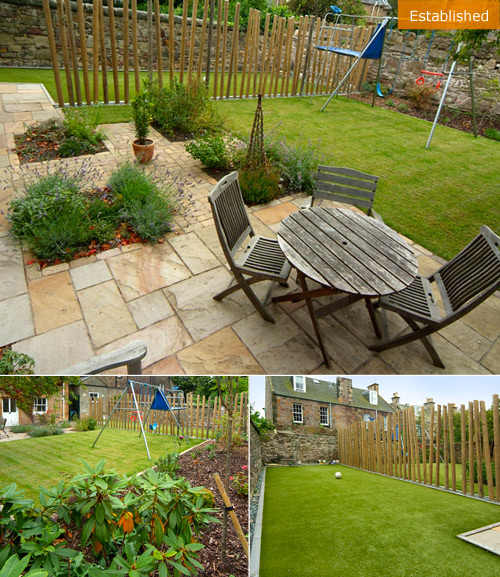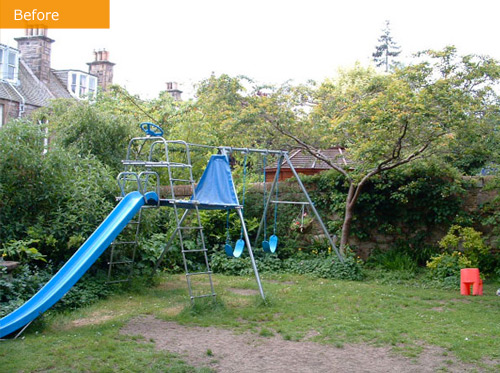 The situation:
A Family Garden Challenge
A small walled family garden in Edinburgh with a big challenge…
The brief:
The clients, a professional couple with children all wanted something different from their garden. The adults requested a garden in an informal style, with a sitting area to relax in, a lawn with mowing edge and plant borders with low maintenance planting with an area for growing herbs and seasonal salad crops. The children wanted a lawn to play on, plus a large climbing frame and swings had to be incorporated. Their son, a very keen footballer, who plays everyday needed an area set aside for ball games, which would take heavy use, separate from the main area of the garden.
The garden was designed to be implemented in two phases. In phase one the garden would be divided into 'family' and 'sports' areas. In phase two the design was completed without the sports area, so in time when the 'sports' area is no longer needed, it can be removed and the rest of the garden landscaped and planted.
In late 2006 the garden was landscaped and divided and the planting completed in 2007.A new natural stone terrace was laid with a potager area, for herbs and salad crops surrounded by natural stone sett pathways.A new lawn with mowing edge was laid,(the climbing frame and swings incorporated here) surrounded by planting beds with a strong pastel colour theme.
The 'sports' area was installed using sports quality artificial turf as a tough all weather surface. A barrier was needed to stop balls crashing into the 'family' area, so a serpentine barrier of upright larch poles were cemented into the ground to create a see-through barrier, retaining a feeling of space in the garden, and the family can still cheer on the players.
The all weather surface has been well tested and proved a success, and the family enjoyed their first home grown salad and tomato crops
Gallery: A Family Garden Challenge
0800 458 7552 | 07880-770594
GILLIAN@POLLEYGARDENDESIGN.COM
3 Swanston Road, Edinburgh, EH10 7BB