A Potager Garden
"It is a space that draws everyone to it!"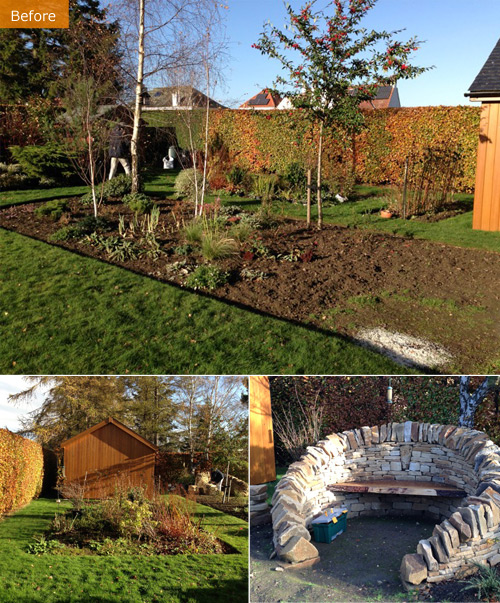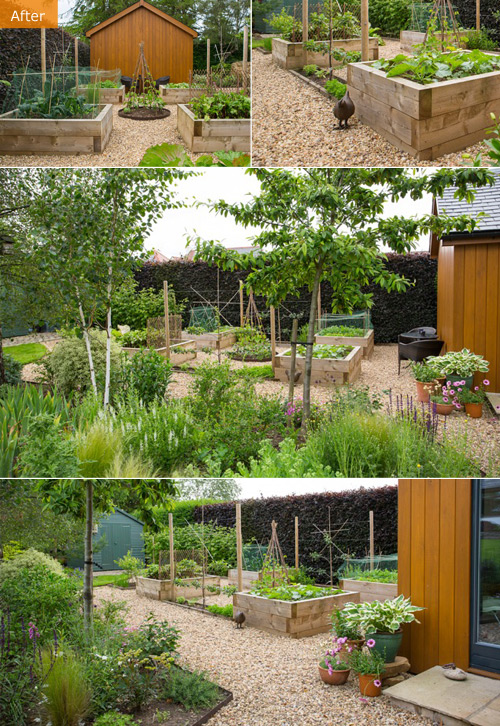 The situation:
A Potager Garden
A lovely well established garden with plant beds, lawns, rockery and pond with a new garden room and dry stone walled seat.
The brief:
The ciients, who are keen gardeners had installed a new garden room and dry stone walled seat and were now looking with fresh eyes at the bottom area of their garden. There is a vegetable growing area, plant beds, shed and compost bins.  They wanted the whole area to flow seemlessly together, but be practical and enjoyable and look good with the existing garden.
After discussions, a new design for a potager garden was agreed to grow vegetables, soft fruit, trained fruit trees and flowers in a mix of wooden raised beds and ground level beds. The grass was removed and new pathways of weed resistant membrane topped with gravel were laid for easy maintanence. The side of the garden room was a real sun trap in the afternoon and evening,  and an area was set aside for seating to allow the clients to relax with a coffee and enjoy the area.
The shed was painted a soft green to allow it blend into the area and the compost bins relocated.  The pathways were altered to allow easy practical access.
The gravel pathways were extended to the front of the garden room (with a paved step) and to the dry stone wall seat with added planting to soften the area. The large plant bed and lawn layout was adjusted to allow the bottom area of the garden to flow simply together with the rest of the established garden.
Garden Room: www.jmlgardenrooms.co.uk
Stone Seat: www.dry-stone-wall.co.uk
Landscaper: GB Landscapes, 07969-564-777
Planting: the Clients and Foliage Planting Design www.alisonmacdonald.co.uk
Gallery: A Potager Garden
0800 458 7552 | 07880-770594
GILLIAN@POLLEYGARDENDESIGN.COM
3 Swanston Road, Edinburgh, EH10 7BB