A Sunny Retreat for Relaxation
"the family now really enjoy spending time relaxing in their garden"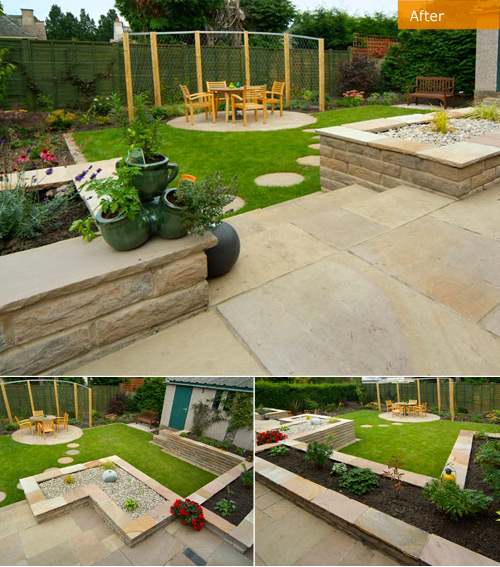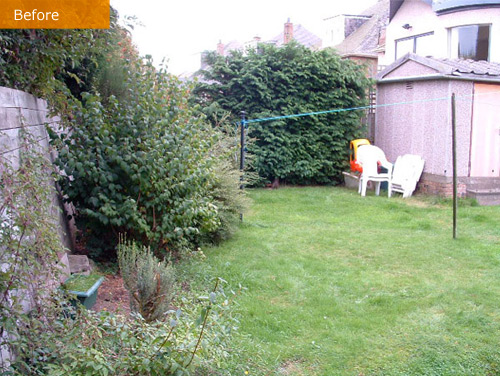 The situation:
A Sunny Retreat for Relaxation
1930's Edinburgh bungalow rear garden with only 3 things to recommend it…
Over the years the property had a number of owners who had all made changes to the garden, resulting in a mismatch of old concrete paths, some grassed over, old shed foundations, a very bumpy lawn, some plant beds with a few shrubs. It was grim – not a space you wanted to spend time in.
There were only three things to recommend it. It was largely sunny, private and the owners saw its potential.
The brief:
The clients, a professional couple wanted a sunny retreat to relax in with friends and family, with a main sitting/eating area and two smaller areas to catch the sun at different times of the day. Their wish list also included a lawn, small water feature, plant beds with mainly shrubs for lower maintenance with a warm colour scheme, clothing the side of the garage in climbers and a new rear fence with fragrant climbers.
The garden drops away in height from the rear of the bungalow, so standing in the garden felt a little as if you were standing in a hole. To make the transition between the bungalow and garden more cohesive a new natural stone paved area and series of raised beds were designed at the rear of the property, with a wide set of steps leading you down to the lawn, main seating area and plant beds. The raised beds were planted and evergreen climbers clothed the side of the garage. A small granite trickle water feature was set in pebbles and planting in the raised bed by the steps to be enjoyed from the sitting areas.
A new level lawn area was laid with inset paving stepping stones set in a curve to lead you to the main circular seating area with bespoke pergola offset around it, clothed with seasonal fragrant climbers. This area acts as a focal point for the garden. New planting beds were laid out and planted and a new rear fence installed and planted with climbers.
To soften the rear wall of the bungalow, the walls were wired and evergreen seasonal climbers planted which will give colour and interest as they mature.
The garden was completed in summer 2007. From a rather grim space which was not inviting, the family now really enjoy spending time relaxing in their garden.
Gallery: A Sunny Retreat for Relaxation
0800 458 7552 | 07880-770594
GILLIAN@POLLEYGARDENDESIGN.COM
3 Swanston Road, Edinburgh, EH10 7BB