A Woodland Garden
"Her fresh eyes saw opportunities that would never have occurred to us; we are thrilled with the end result!"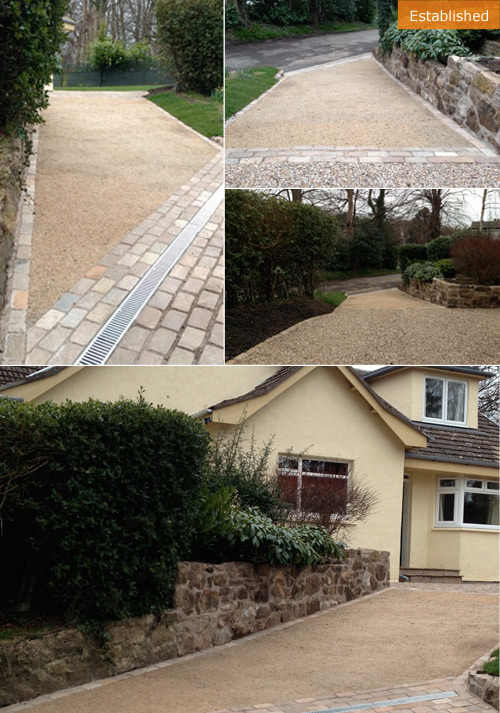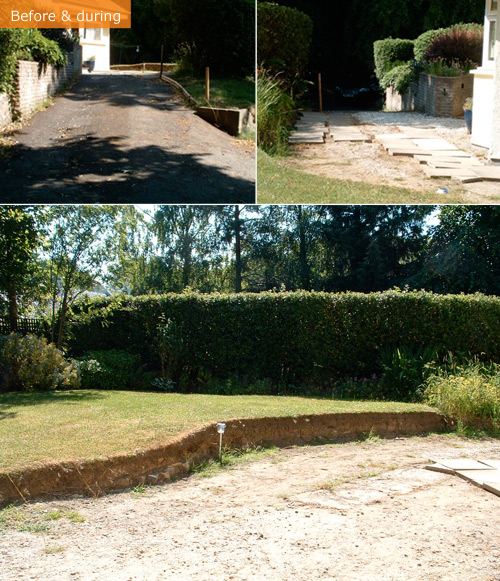 The situation:
A Woodland Garden
An extended 1960's bungalow in Edinburgh in a woodland setting with the bungalow situated in the centre of the garden.  A driveway (partially sloping) in poor condition. Trees, lawns and plant borders.
The brief:
The clients wanted the style of the garden to be informal and low maintenance and sit well within the local woodland area. They wanted all year round seasonal interest, fragrance and a pastel colour scheme.  The driveway needed to be renewed and widened, and the level difference between the driveway and lawn dealt with.  A sitting area added to the lawn with new plant beds giving additional privacy to views into the garden from the entrance area to the house.
In front of the house, part of the raised bed to be removed and a new 'frontage' added to the remainder of the existing raised bed at the side of the driveway.  The raised bed to be extended at one end into the front garden to give privacy and a sitting area installed.
In the rear garden (long and narrow), a way was needed to deal with the raised banking to the rear of the garden, as planting in this area had failed previously due to very poor soil quality. Plus a sitting area was required.  It was agreed to remove several trees to improve light levels in this area of the garden and the house.  The clients decided to split the garden works into phases.
Phase 1 – Driveway and Side Garden
The driveway was widened to accommodate turning for a car and trailer. The flat areas of the driveway were laid with gravel with underlying reinforcement with sett edging. The sloped area of the driveway presented a problem as gravel could not be used and the clients did not want paviors, concrete or asphalt.  The solution was to use Ecogrid with resin bound stone, which is SUDS compliant, allowing rainwater to naturally dissipate through it into the water table. To assist any excessive water run off, a linear drain connected to a soakaway was also installed at the bottom of the slope.   The old frontage of the raised beds was removed and a random rubble walling was uncovered and repaired.
The lawn area was lowered; a small paved sitting area installed, with a new planting bed layout, with evergreen shrub planting in the house entrance area to give the added privacy required. Phase 1 of the landscaping work was completed in February 2014 and planting will go in early May.  Please look at my blog  to see images of the landscaping works and the new driveway.  Phase 2 of the garden was landscaped in January 2015 and planted up in mid-March. We look forward to this summer and seeing the plants establish and bloom.
Gallery: A Woodland Garden
0800 458 7552 | 07880-770594
GILLIAN@POLLEYGARDENDESIGN.COM
3 Swanston Road, Edinburgh, EH10 7BB