Front Garden and Driveway
"A View to the Hills"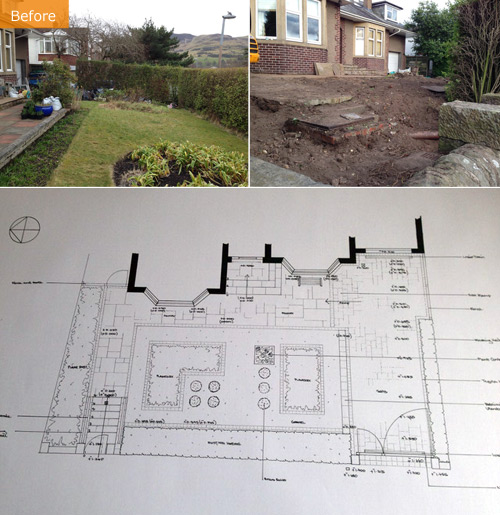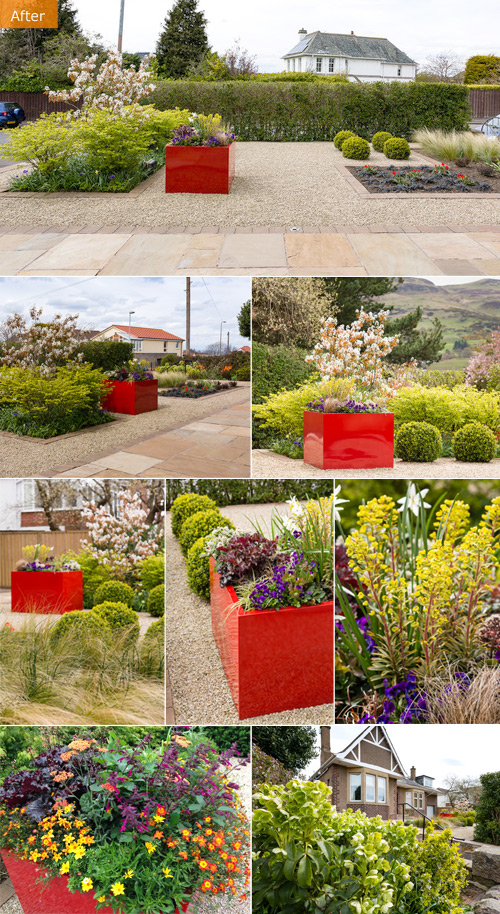 The situation:
Front Garden and Driveway
A 1930's bungalow front garden with old tarmac driveway, tired concrete paths, lawn and plant borders in need of improvement.  West facing and sunny, but 550 feet above sea level and exposed to winter gales and frosts.
The brief:
The clients wanted to improve their front garden and driveway, widening the 1930's driveway entrance and resurface the driveway, and widen the pedestrian entrance and set of steps.  Demolish a wall and gateway in poor condition which gave access to the rear garden.  Remove the lawn and renew the planting with long seasonal year round interest.  Keep both the front and side boundary privet hedges which give some shelter from winter weather.
The driveway entrance was widened by removing a section of the front wall and privet hedge.  A new random rubble mortar wall was built along the side of the widened driveway to replace a sloping plant bed, and a new pavior driveway surface installed with two linear drains.  A new section of fencing was installed along the boundary to butt up to the existing privet hedge.  A combination of two steps/pavior slope allowed a choice of easy access from the drive to the new sandstone paved path and steps to the front door.
The pedestrian entrance inside the gate was widened and the steps redesigned and a handrail added working around existing drains.  The side boundary plant bed was enlarged.  A new section of wooden fencing and a gate replaced the old demolished wall. Lighting was added at ground level and in the walls of the driveway and pedestrian entrance.
The lawn was replaced by gravel with plant beds and structural planting. Unusually the clients choose the main seasons of plant interest in the front garden to be autumn/winter and spring.  Tough evergreen winter flowering shrubs and herbaceous plants were chosen to give long seasons of colour and structure, enhanced by spring bulbs.  Summer colour is provided by a large container which is planted with summer flowering herbaceous plants and summer bedding.
Gallery: Front Garden and Driveway
0800 458 7552 | 07880-770594
GILLIAN@POLLEYGARDENDESIGN.COM
3 Swanston Road, Edinburgh, EH10 7BB