Low Maintenance Front Garden
"strong structural evergreen planting, with all year round interest, with a contemporary feel"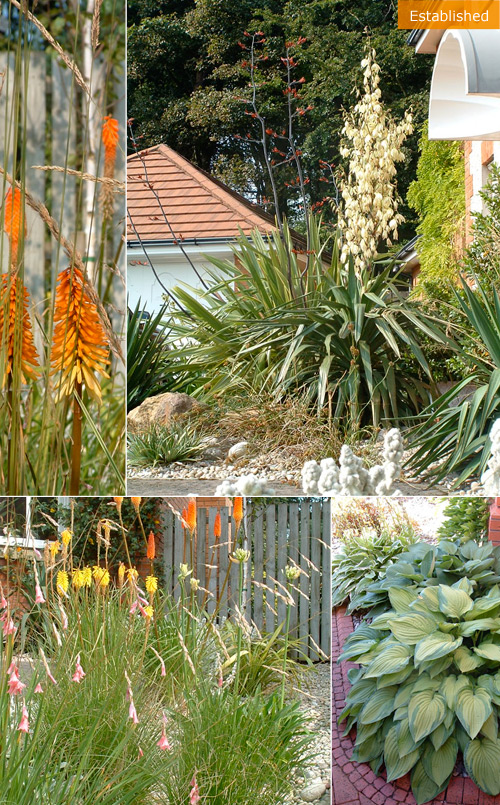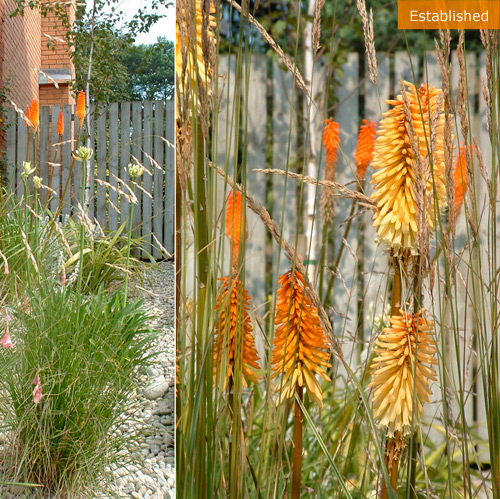 The situation:
Low Maintenance Front Garden
A small front garden of a modern style house in Edinburgh. A driveway and garage, pathway to the front door and small irregular sized lawn area. About 500 feet above sea level, the garden faces west, so plenty of afternoon and evening sun, but exposed to strong gales and bad weather in the winter.
The brief:
The clients have a large back garden and wanted their front garden to be low maintenance. The grass was in poor condition and they wanted to change this. They requested strong structural evergreen planting, with all year round interest, with a contemporary feel.
The grass was removed, and soil prepared for planting. A new pathway to the front door was laid, to compliment the brickwork of the house. Pebbles and cobbles covered the rest of the ground, over a permeable membrane to suppress weeds. The challenge was in the choice of planting, as soft foliage plants would be ripped to shreds by the winter weather.
A tree, Betula utilis var. jacquemontii, with a wonderful white bark was chosen, to stand out against the dark brick colour of the house. Evergreen structural plants, ranging in size from a huge Phormium, to Yuccas and low growing Bromelia, were chosen to form the backbone of the garden.
Euphorbia, Kniphofia, mixed grasses, Dierama and Agapanthus were planted to add colour in both foliage and flowers. At ground level, mixed clumps of ' Lambs Ears' (Stachys byzantina & Stachys 'Primrose Heron') with green balls of ëThrift' (Armeria), with flowering upright stems of pink ball flowers. The Corkscrew Rush (Juncus effusus ëSpiralisí), added a twist, with its shiny corkscrew dark green stems standing out against the pebbles. For early spring colour, small clumps of dwarf Narcissus were planted, pushing up through the pebbles. Two wall climbers were chosen, a Wisteria and Fremontodendron ëCalifornia Gloryí, giving late spring, summer and autumn flowers.
In a more sheltered and shady corner by the garage, three Hostas were planted, their wonderful soft leaves giving a beautiful textural contrast to the pebbles.
The client says they spend around 5 hours a year in maintaining the garden, just deadheading flowers and a spring tidy up.
Gallery: Low Maintenance Front Garden
0800 458 7552 | 07880-770594
GILLIAN@POLLEYGARDENDESIGN.COM
3 Swanston Road, Edinburgh, EH10 7BB