A Sunny Walled Garden
"We now have interest all year round and a delightful garden"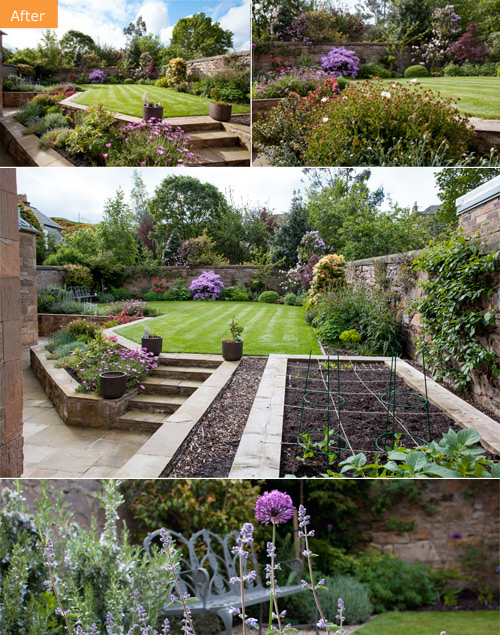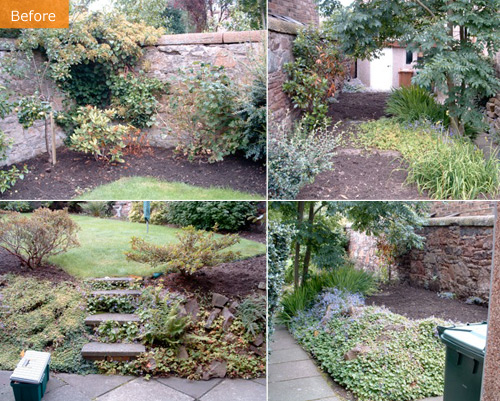 The situation:
A Sunny Walled Garden. A 1904 stone house with a small sunny rear walled garden on two levels with a sitting area, lawn, plant beds, small vegetable area, shed and garage. The retaining walls wihtin the garden were in some disrepair.
The brief:
The clients wanted their rear small sunny walled garden to have an informal and relaxing style with general year round plant colour and interest.
The garden was divided into two levels:
Around the rear of the house was a small sitting area, which needed to be enlarged.  At the side of the house is a garage and utility area.  The shed to be relocated to this area.  New retaining walls and steps to be designed, using existing stone as far as possible.
At the upper level, the depth of the plant beds to be increased and planting improved.  A bench was requested to enjoy the garden at this level to catch late afternoon sun. A new vegetable growing area to be added.  Two self-seeded trees to be removed, subject to planning permission.
At the rear of the house, the sitting area was enlarged to allow space for a table and chairs for 4 people and new sand stone paving was laid. The existing Wisteria on the rear of the house was carefully preserved. Using existing stone, new stone retaining walls were built and around the sitting area the walls were terraced on two levels to allow soft decorative planting beds to be planted around the sitting area.  The utility area at the rear of the garage was enlarged and a new shed installed in this area. New steps were designed to give access to the lawn level of the garden.
The plant beds were enlarged to allow more substantial planting and the shape of the lawn redesigned. Plants were added to the garden to give year round colour and interest and additional climbers planted up the stone boundary walls. A bench was situated next to a sunny wall with views across the garden. A vegetable growing area was designed, with a raised wooden vegetable bed, which is very successful, as are the trained fruit trees on the boundary wall.
A Sunny Walled Garden​ – Gallery
0800 458 7552 | 07880-770594
GILLIAN@POLLEYGARDENDESIGN.COM
3 Swanston Road, Edinburgh, EH10 7BB