A Panoramic Refuge
"A sunny sloping rear garden with panoramic views"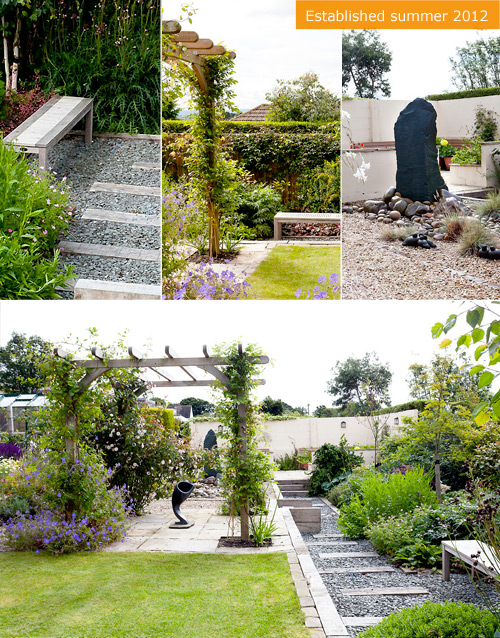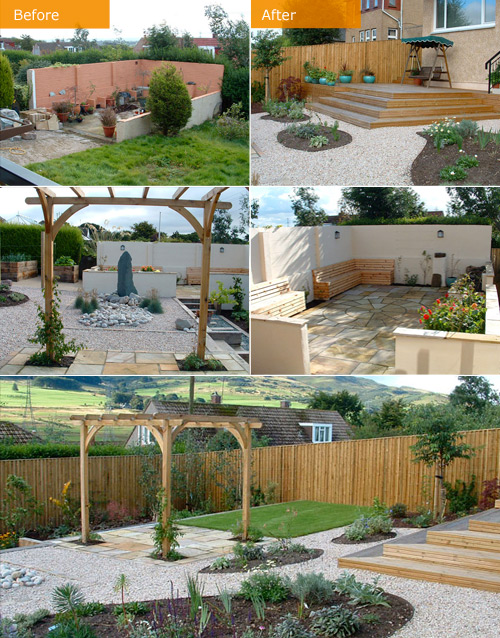 The situation:
Panoramic Refuge
A 1930's bungalow in south Edinburgh with a sunny sloping rear garden with panoramic views to the Pentland Hills. The garden has an old concrete driveway, remains of an old garage, grass and an old apple tree.
The brief:
The clients, a professional couple wanted a low maintenance garden with a large deck. Also on their wish list was a pergola, water feature, greenhouse and vegetable beds, plant beds, small lawn area, rotary dryer. The big question was what to do with the remains of the old garage and sloping concrete driveway?
Landscaping started in spring 2008 and was completed in the summer.
A large deck was located at the rear of the bungalow with steps down to the garden. This is surrounded by gravel pathways flowing around organic shaped planting beds of sun loving perennial plants and bulbs. The gravel leads you to a small lawn and paved pergola area, with climbers, overlooking a tall stone water feature surrounded by gravel, cobbles and grasses.
Steps then take you down to a slate pathway with inset wooden detail matching the wooden sleeper retaining wall. There is a large planting bed running the length of the rear boundary with a seat. New steps and an entrance take up to the new terrace area.
After discussion with the clients the remains of the old garage were completely refurbished, as a sitting terrace for afternoon and evening sun, taking advantage of great views to the hills, with wooden seats, new natural stone paved surfacing and raised plant beds for seasonal bedding and climbers.
The old concrete sloping driveway was resurfaced in resin bonded gravel and the rotary drier, new green house and raised vegetable beds located in this area, screened from the deck by fan trained fruit trees to be planted in winter 2008.
The planting in the garden is in warm colour tones with year round interest. The old apple tree, whose apples were loved by the client had to go, but the variety was identified and a new tree has been ordered and will be planted this winter.
The latest images from the garden  were taken in the summer of 2012.
Gallery: Panoramic Refuge
0800 458 7552 | 07880-770594
GILLIAN@POLLEYGARDENDESIGN.COM
3 Swanston Road, Edinburgh, EH10 7BB