A Contemporary Family Garden
"child friendly with low maintenance planting and year round interest and structure"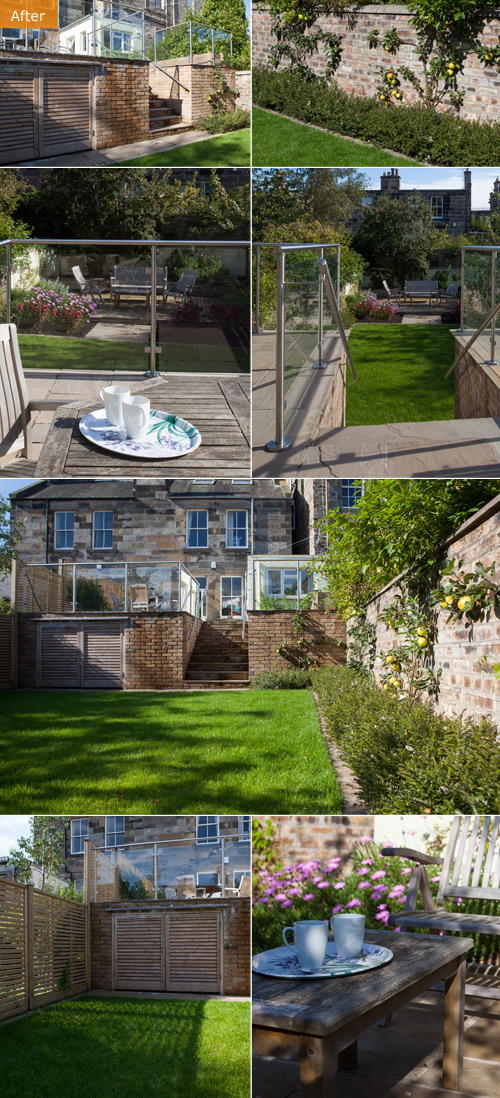 The situation:
A 1850 stone house with a rear 1940's extension coming out onto a sunny rear garden on two levels, with an upper sitting area, steps, defunct pond and rockery, lawn area with plant beds and two sheds at the end of the garden. The garden was very tired and the clients were very keen to undertake a complete upgrade and new design.
The brief:
The clients wanted the new design to be contemporary with simple lines, but in keeping with the style of their home. To be child friendly with low maintenance planting and year round interest and structure.
The garden was divided onto two levels:
Upper Terrace:
coming out from kitchen french windows onto a new extended terrace with new sandstone paving. Seating has been added for the family to enjoy the morning sun. There are plant beds for colour and interest and low wooden vegetable growing beds for children. The terrace is surrounded by a glass and stainless steel balustrade. Under the extended upper terrace is a tanked dry storage area with wooden doors, replacing the storage previously found in the two sheds at the end of the garden which were removed. New paved steps with stainless steel handrails take you down to the lower garden. The front of the upper terrace was finished in matching brick to the south boundary giving a cohesive feel.
Lower Garden:
the lower garden is simply laid out to lawn and low maintenance plant beds, with massed planting of Hebes and Hydrangeas, with plants in the raised beds and wall climbers providing more seasonal interest and evergreen structure. The south facing brick boundary wall was wired and new trained fruit trees were planted. They produced a bumper crop in 2014. A new contemporary linear style wooden fence was installed all the way down the opposite garden boundary.
The walled bottom area of the garden was transformed into a paved sitting area for six people, surrounded by the refurbished raised plant beds as this area catches the sun later in the day into evening. The walls of the house extension and this sitting area were repainted in the same colour to link the house and garden together. It has proved a great area to relax with friends and family.
0800 458 7552 | 07880-770594
GILLIAN@POLLEYGARDENDESIGN.COM
3 Swanston Road, Edinburgh, EH10 7BB